TELKOMNIKA (Telecommunication, Computing, Electronics and Control) ISSN: 1693-6930, e-ISSN: 2302-9293
is a peer-reviewed, scientific journal published by Universitas Ahmad Dahlan (UAD) 
in collaboration with
 Institute of Advanced Engineering and Science (IAES). The aim of this journal is to publish high-quality articles dedicated to all aspects of the latest outstanding developments in the field of electrical & electronics engineering and computer science. Its scope encompasses the applications of Telecommunication, Computing, Electrical & Electronics, and Instrumentation & Control. It was first published in 2003. Beginning with issue 1 of volume 16 (2018), TELKOMNIKA will be published as a bimonthly journal (6 issues/year). The journal registered in the CrossRef system with Digital Object Identifier (DOI) prefix 10.12928. The Journal has been indexed by 
SCOPUS
, 
Google Scholar
, 
Scholar Metrics
 etc; accredited 'A' Grade by DGHE (Ministry of Research, Technology and Higher Education, Republic of Indonesia); registered BASE - Bielefeld Academic Search Engine and CORE KMi, etc. The Journal also have a license agreement with  ProQuest LLC and EBSCO Publishing.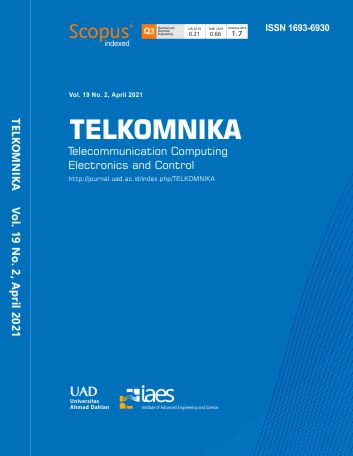 Authors should submit only papers that have been carefully proofread and polished. Manuscripts are accepted with the understanding that they are an original or extended version of previously published papers in conferences and/or journals and that, if the work received an official sponsorship, it has been duly released for open publication. Before submission please make sure that your paper is prepared using the journal paper template. The authors must refer to TELKOMNIKA Journal for writing format and style (Please download and use as a template for initial manuscript submission in .DOCX or LATEX). This will ensure fast processing and publication. Any papers not fulfilling the requirements based on the guideline to authors will not be processed.

If you have any problems with the online submission, please do email to telkomnika [at] uad.ac.id (subject: Your Name_Problem with Online Submission), and cc: telkomnika [at] journal.uad.ac.id.
Announcements
Does not accept any papers suggestion from conference organizer

Dear Sir/Madam,

Due to huge regular papers submission, we apologize that this journal does not accept any papers suggestion from other conference organizers.

Your attention and cooperation is very highly appreciated.

Best Regards,
TELKOMNIKA Editorial Office
Posted: 2020-06-03
More...
Vol 19, No 3: June 2021
Each paper requires minor changes for it to be accepted. Editors will go through the revisions and gives a final approval. However, it is good to remember that "this status decision" does not guarantee acceptance. The paper will be accepted only if the editors are satisfied with the changes made.

Table of Contents