Universitas Ahmad Dahlan Journal (UAD Journal) is an integrated management system of UAD journals which allows editors to manage and organize their journals that they can work more efficiently and effectively, particularly in a team.
UAD Journals are covered in several leading abstracting and indexing databases including the ones given below.
Digital Object Identifier (DOI) 

registered with CrossRef. 

DOI

 prefix is: 10.12928

NewJour
A full list of the indexing and abstracting services for each journal can be found on the journal's website.
A B C D E F G H I J K L M N O P Q R S T U V W X Y Z All
Insyirah: Jurnal Ilmu Bahasa Arab dan Studi Islam
Insyirah: Jurnal Ilmu Bahasa Arab dan Studi Islam menerbitkan artikel kajian dan penelitian dalam bidang ilmu bahasa arab dan studi islam, meliputi: nahwu, sharaf, arudh, lughoh, qord, insya, khot, bayan, ma'ani, istisyqoq, badi', qhofiyah, fikih, ilmu kalam, ilmu-ilmu Islam (tauhid, fiqah, tafsir, hadist, akhlak), ilmu fiqih islam, fiqih wanita muslimah, fiqih ibadah, fiqih shalat, fiqih nikah, fikih puasa, fiqih zakat, fiqih kurban, fiqih haji, pemahaman terkait sekularisme di barat, ekonomi islam, dan lain-lain.
View Journal | Current Issue | Register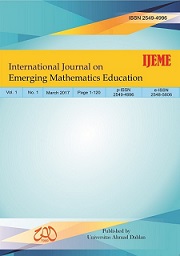 International Journal on Emerging Mathematics Education
International Journal on Emerging Mathematics Education (IJEME) is a peer-reviewed open access journal published twice in a year (March and September). The IJEME aims to provide an international forum for researchers and professionals to share their ideas on all topics related to mathematics education. It publishes its issues in an online (e-ISSN 2548-5806) and a printed (p-ISSN 2549-4996) version.
The IJEME has been accredited by National Journal Accreditation (ARJUNA) managed by Ministry of Research, Technology, and Higher Education, Republic Indonesia with Second Grade (Sinta 2) since Volume 1 Number 1, March 2017 to Volume 5 Number 2, September 2021 according to the decree No. 30/E/KPT/2018. This journal has been indexed and abstracted in SINTA, Garuda (Garba Rujukan Digital), Google Scholar, Crossref, BASE (Bielefeld Academic Search Engine), Microsoft Academic Search, and CiteFactor.
View Journal | Current Issue | Register
1 - 2 of 2 Items