Journal of Educational, Health, and Community Psychology (JEHCP) published an article, and empirical study that focused on educational psychology, health psychology, and community psychology. JEHCP publish two volume a year.   JEHCP has been indexed in several international database  including google scholar, SherpaRomeo, Portal Garuda, IPI, and  DOAJ. ISSN online 2460-8467.  Free of Charge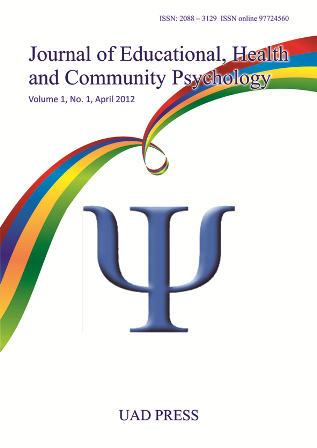 Announcements
Call for papers

JEHCP  Call for Papers 2016-2017

 

Journal of Educational, Health, and Community Psychology (JEHCP) Call for Papers 2016-2017

We invite you to submit your paper to JEHCP. Free of Charge. 

Papers submission deadlines:

Vol.6 No.1 April 2017, submission deadline: 10 February 2017
Vol. 6 No.2 August 2017, submission deadline: 10 June 2017
Vol. 6 No.3  December 2017, submission deadline: 10 September 2017

Papers published in the six-monthly journal (April, Aug, and Dec)

(1) report evaluation and research findings;
(2) treat conceptual and methodological issues; and/or
(3) consider the implications of the above for action; and/or
(4) an extensive book reviews section and also occasional reports on educational materials and equipment.

Submit your manuscripts today! (in English) through our online system (http://journal.uad.ac.id/index.php/Psychology/about/submissions#onlineSubmissions) or submit your papers via email: jehcp[at]psy.uad.ac.id

The authors should refer to JEHCP journal writing format and style. Submitted papers are evaluated by anonymous referees for contribution, originality, relevance, and presentation. The Editor shall inform you of the results of the review as soon as possible, hopefully in 6 weeks.

 

 

 

Posted: 2016-12-21
More...
Vol 5 No 2 August 2016
Table of Contents
Articles