Universitas Ahmad Dahlan Journal (UAD Journal) is an integrated management system of UAD journals which allows editors to manage and organize their journals that they can work more efficiently and effectively, particularly in a team.
UAD Journals are covered in several leading abstracting and indexing databases including the ones given below.
Digital Object Identifier (DOI) 

registered with CrossRef. 

DOI

 prefix is: 10.12928

NewJour
A full list of the indexing and abstracting services for each journal can be found on the journal's website.
A B C D E F G H I J K L M N O P Q R S T U V W X Y Z All
SPEKTA
Buletin ini merupakan jurnal yang berisi kumpulan makalah hasil penelitian Tugas Akhir mahasiswa Teknik Industri UAD.
View Journal | Current Issue | Register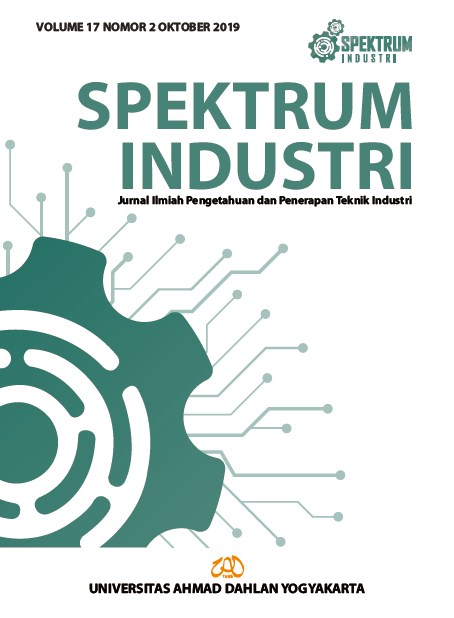 SPEKTRUM INDUSTRI
Jurnal Spektrum Industri ISSN 1693-6590(print); ISSN 2442-2630(online) is a media that publish the research manuscript in the science scope related to engineering and/or industrial management both research and theoretical. Manuscript is the result of a literature review will be considered if it is written by an expert. Jurnal Spektrum is published twice a year, namely Aprils and Octobers. 
This journal has been indexed by DOAJ, Crossref, Google Scholar, Indonesian Publication Index (IPI) (formerly Portal Garuda Indonesian Publication Index), Indonesian Scientific Journal Database (ISJD), and Science dan Technology Index (SINTA)
All submitted manuscripts will be initially reviewed by editors and are then evaluated by minimum two  reviewers through the double-blind review process. This is to ensure the quality of the published manuscripts in the journal.
Before Submission
Author has to make sure that the manuscript has been prepared using the Spektrum Industri's template following the author guidelines. The manuscript should also have been carefully proofread. Any manuscript which does not meet the author guidelines, or written in a different format, will be immediately rejected. Only manuscript which meets the Spektrum Industri format will be processed further.
View Journal | Current Issue | Register
1 - 2 of 2 Items