Universitas Ahmad Dahlan Journal (UAD Journal) is an integrated management system of UAD journals which allows editors to manage and organize their journals that they can work more efficiently and effectively, particularly in a team.
UAD Journals are covered in several leading abstracting and indexing databases including the ones given below.
Digital Object Identifier (DOI) 

registered with CrossRef. 

DOI

 prefix is: 10.12928

NewJour
A full list of the indexing and abstracting services for each journal can be found on the journal's website.
A B C D E F G H I J K L M N O P Q R S T U V W X Y Z All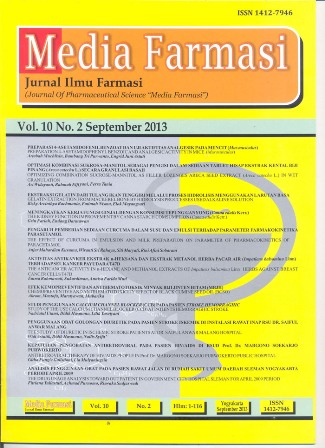 Media Farmasi
Media Farmasi adalah jurnal ilmu kefarmasian Fakultas Farmasi Universitas Ahmad Dahlan yang telah dipublikasikan sejak tahun 2002, dan dipublikasikan 2 kali dalam setahun. Media Farmasi menerima artikel atau review yang meliputi bidang Teknologi Farmasi, Farmasi Komunitas dan Klinik, Biologi Farmasi, Kimia Farmasi, Farmakologi, Toksikologi, Sistem Penghantaran Obat, Biofarmasi, dan tema-tema lain yang berhubungan dengan Ilmu Farmasi. Artikel yang akan dimuat harus belum pernah dipublikasikan. Artikel yang masuk akan direview oleh tim editor Media Farmasi yang berasal dari dalam dan dari luar Fakultas Farmasi Universitas Ahmad Dahlan.
View Journal | Current Issue | Register
1 - 1 of 1 Items