Universitas Ahmad Dahlan Journal (UAD Journal) is an integrated management system of UAD journals which allows editors to manage and organize their journals that they can work more efficiently and effectively, particularly in a team.
UAD Journals are covered in several leading abstracting and indexing databases including the ones given below.
Digital Object Identifier (DOI) 

registered with CrossRef. 

DOI

 prefix is: 10.12928

NewJour
A full list of the indexing and abstracting services for each journal can be found on the journal's website.
A B C D E F G H I J K L M N O P Q R S T U V W X Y Z All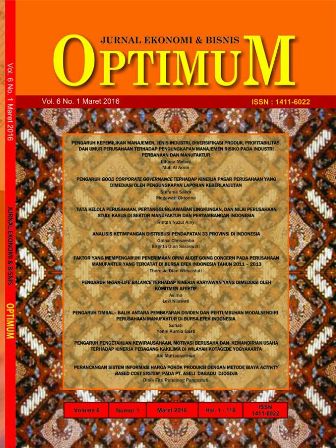 OPTIMUM (Jurnal of Economics and Business)
Optimum (ISSN: 1411-6025) is a Jurnal of Economics and Business which publishes high quality research papers in all fields of finance and in closely related fields of economics, corporate and financial behavior. This Journal is interested in both theoretical and applied research with an emphasis on topics in economics, financial markets and institutions, corporate finance, investments, insurance, research in real estate, monetary theory and policy, and industrial organization. Papers that deal with the relation between the industrial structure of the product market and the financial structure of firms are also welcomed.
View Journal | Current Issue | Register
1 - 1 of 1 Items