Universitas Ahmad Dahlan Journal (UAD Journal) is an integrated management system of UAD journals which allows editors to manage and organize their journals that they can work more efficiently and effectively, particularly in a team.
UAD Journals are covered in several leading abstracting and indexing databases including the ones given below.
Digital Object Identifier (DOI) 

registered with CrossRef. 

DOI

 prefix is: 10.12928

NewJour
A full list of the indexing and abstracting services for each journal can be found on the journal's website.
A B C D E F G H I J K L M N O P Q R S T U V W X Y Z All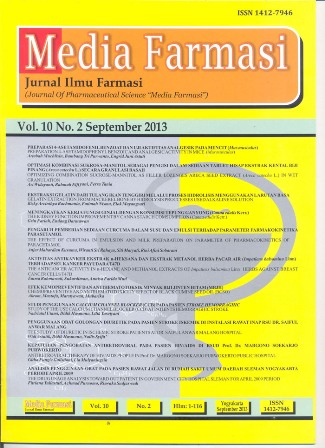 Media Farmasi: Jurnal Ilmu Farmasi
Media Farmasi is a scientific journal published by the University of Ahmad Dahlan worked closely with Ikatan Apoteker Indonesia (IAI). Media Farmasi published two times a year, namely in March and September since 2002 with ISSN 1412-7946 and e-ISSN 2503-5223. The article published in the Journal Media Farmasi selected by editors and reviewed by the reviewer. Articles published in Media Farmasi must not be published in other journals or have been previously published. Media Farmasi publishes a review article, original article, as well as short communication in all scopes of Pharmaceutical Science.
Media Farmasi is indexed in google scholar. Media Farmasi is planned to be indexed in DOAJ and accredited by DIKTI (DGHE) of Indonesia in 2019.
View Journal | Current Issue | Register
1 - 1 of 1 Items