Universitas Ahmad Dahlan Journal (UAD Journal) is an integrated management system of UAD journals which allows editors to manage and organize their journals that they can work more efficiently and effectively, particularly in a team.
UAD Journals are covered in several leading abstracting and indexing databases including the ones given below.
Digital Object Identifier (DOI) 

registered with CrossRef. 

DOI

 prefix is: 10.12928

NewJour
A full list of the indexing and abstracting services for each journal can be found on the journal's website.
A B C D E F G H I J K L M N O P Q R S T U V W X Y Z All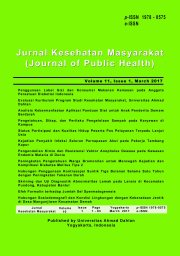 Kes Mas: Jurnal Fakultas Kesehatan Masyarakat
Kes Mas: Jurnal Fakultas Kesehatan Masyarakat p-ISSN: 1978-0575 and e-ISSN: 2620-2999, is an open access and peer-reviewed journal that published empirical quantitative research and/or qualitative research on the epidemiology, biostatistics, nutrition, family health, climate change, infectious and non-infectious diseases, health services research, gerontology, child health, adolescent health, behavioral medicine, rural health, health promotion, public health policy and management, health economics, occupational health and environmental health and the understanding of all aspects of public health. Submitted papers must be written in Indonesian and/or English for initial review stage by editors and further process by minimum two reviewers. This journal is had been indexing on Google Scholar, Crossref, Indonesian Publication Index (IPI), Portal Garuda, DOAJ (resubmit), and Index Copernicus. This journal is now ACCREDITED (recognised) by the Ministry of Research, Technology and Higher Education, Republic of Indonesia (RISTEKDIKTI, Decree No: 21/E/KPT/2018).
View Journal | Current Issue | Register
KONSELIA Guidance and Counseling Journal
View Journal | Current Issue | Register
1 - 2 of 2 Items