Universitas Ahmad Dahlan Journal (UAD Journal) is an integrated management system of UAD journals which allows editors to manage and organize their journals that they can work more efficiently and effectively, particularly in a team.
UAD Journals are covered in several leading abstracting and indexing databases including the ones given below.
Digital Object Identifier (DOI) 

registered with CrossRef. 

DOI

 prefix is: 10.12928

NewJour
A full list of the indexing and abstracting services for each journal can be found on the journal's website.
A B C D E F G H I J K L M N O P Q R S T U V W X Y Z All
CHANNEL: Jurnal Komunikasi
CHANNEL: Jurnal Komunikasi has been listed on Sinta 4 (Document No. 28/E/KPT/2019) by Ministry of Research, Technology and Higher Education of Republic of Indonesia. CHANNEL: Jurnal Komunikasi is published by Universitas Ahmad Dahlan in collaboration with Ikatan Sarjana Komunikasi Indonesia (ISKI) and Asosiasi Penerbit Jurnal Ilmu Komunikasi Indonesia (APJKI).
Channel: Jurnal Komunikasi ISSN 2339-2681 (print) and ISSN 2621-2579 (online) publish twice a year in April and October. Contains writing that is lifted from the results of research and conceptual thinking in the field of communication. Publishers receive written contributions that have never been published in other journal. Article can be directly submitted into the online journal system on this page after registration.
View Journal | Current Issue | Register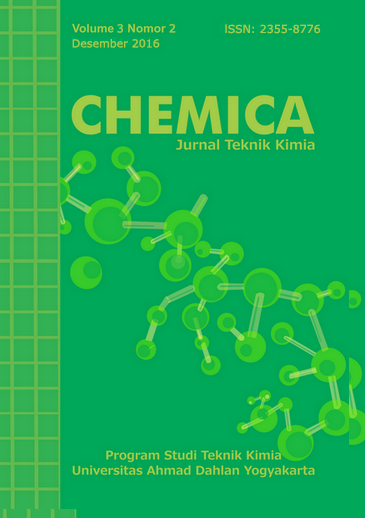 CHEMICA: Jurnal Teknik Kimia
---
---
CHEMICA Jurnal Teknik Kimia, p-ISSN: 2355-875X | e-ISSN: 2355-8776, is an international, peer-reviewed, open access, online journal that publishes manuscripts or scientific papers in Chemical Engineering published by Universitas Ahmad Dahlan half-yearly in June and December. The journal consists of high-quality technical manuscripts on advances in the state-of-the-art of chemical reaction engineering, separation, optimization, process control, process system engineering, waste treatment, food, and material technology. Submitted papers must be written in English or Bahasa for an initial review stage by editors and further review process by minimum of two reviewers.
View Journal | Current Issue | Register
1 - 2 of 2 Items