Universitas Ahmad Dahlan Journal (UAD Journal) is an integrated management system of UAD journals which allows editors to manage and organize their journals that they can work more efficiently and effectively, particularly in a team.
UAD Journals are covered in several leading abstracting and indexing databases including the ones given below.
Digital Object Identifier (DOI) 

registered with CrossRef. 

DOI

 prefix is: 10.12928

NewJour
A full list of the indexing and abstracting services for each journal can be found on the journal's website.
A B C D E F G H I J K L M N O P Q R S T U V W X Y Z All
CHANNEL Jurnal Komunikasi
CHANNEL Jurnal Komunikasi publishes study and research articles in communications and media, including: interpersonal communication, mass communication, advertising, communication strategies and media studies.
Papers can be submitted in any of the following forms: articles (should be approximately 6000 words long; however, both shorter and longer manuscripts will be considered), and book review (the average review should be about 1500 words long).
View Journal | Current Issue | Register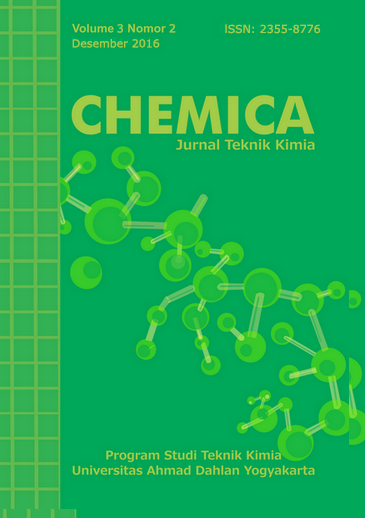 CHEMICA: Jurnal Teknik Kimia
CHEMICA Jurnal Teknik Kimia ISSN, 2355-875X (print) 2355-8776 (online) is a journal that publishes manuscripts or scientific papers in Chemical Engineering. The scope of this journal covers chemical reaction techniques, separation, optimization, process control, process system engineering, waste treatment, food and material technology. Journals are published in print and online twice a year, in June and December by Chemical Engineering Program, Faculty of Industrial Technology, Universitas Ahmad Dahlan Yogyakarta.
Articles can be submitted online or offline via email: chemica@che.uad.ac.id
View Journal | Current Issue | Register
1 - 2 of 2 Items