Universitas Ahmad Dahlan Journal (UAD Journal) is an integrated management system of UAD journals which allows editors to manage and organize their journals that they can work more efficiently and effectively, particularly in a team.
UAD Journals are covered in several leading abstracting and indexing databases including the ones given below.
Digital Object Identifier (DOI) 

registered with CrossRef. 

DOI

 prefix is: 10.12928

NewJour
A full list of the indexing and abstracting services for each journal can be found on the journal's website.
A B C D E F G H I J K L M N O P Q R S T U V W X Y Z All
AdMathEdu : Jurnal Ilmiah Pendidikan Matematika, Ilmu Matematika dan Matematika Terapan
Jurnal AdMathEdu dengan ISSN 2088-687X, terbit 6 bulan sekali (Juni, Desember) sejak 2011, diterbitkan oleh Program Studi Pendidikan Matematika, Fakultas Keguruan dan Ilmu Pendidikan, Universitas Ahmad Dahlan, Yogyakarta. Jurnal ini diharapkan sebagai media bagi staf dosen, peneliti, praktisi, guru, mahasiswa dan masyarakat luas yang memiliki perhatian terhadap bidang dan perkembangan pengajaran matematika dan matematika.
Redaksi menerima naskah berupa hasil penelitian, studi pustaka, pengamatan atau pendapat atas suatu masalah yang timbul dalam kaitannya dengan perkembangan bidang-bidang di atas dan belum pernah diterbitkan oleh jurnal lain. Redaksi berhak memperbaiki atau mempersingkat tanpa merubah isi. Artikel dimuat setelah melalui tahap seleksi.
View Journal | Current Issue | Register
AdMathEduSt
Jurnal Ilmiah AdMathEduSt, terbit 3 bulan sekali (Maret, Juni, September, Desember) sejak 2014, diterbitkan oleh Program Studi Pendidikan Matematika, Fakultas Keguruan dan Ilmu Pendidikan, Universitas Ahmad Dahlan. Jurnal ini diharapkan sebagai media bagi mahasiswa baik tingkat Sarjana, Magister maupun Doktoral yang memiliki perhatian terhadap bidang dan p
View Journal | Current Issue | Register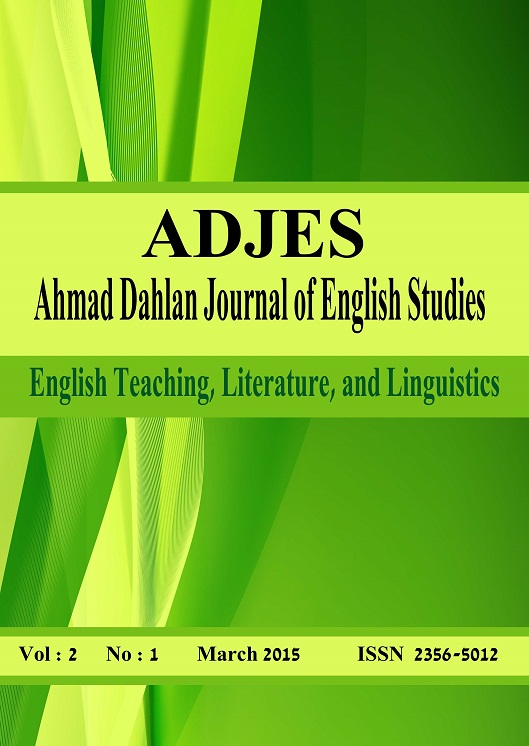 Ahmad Dahlan Journal of English Studies
View Journal | Current Issue | Register
Ahmad Dahlan Journal on Islamic Studies
silakan diskripsinya tentang ADJIS, ruang lingkup dll scr sinkat
View Journal | Current Issue | Register
Al-Misbah
View Journal | Current Issue | Register
1 - 5 of 5 Items