Universitas Ahmad Dahlan Journal (UAD Journal) is an integrated management system of UAD journals which allows editors to manage and organize their journals that they can work more efficiently and effectively, particularly in a team.
UAD Journals are covered in several leading abstracting and indexing databases including the ones given below.
Digital Object Identifier (DOI) 

registered with CrossRef. 

DOI

 prefix is: 10.12928

NewJour
A full list of the indexing and abstracting services for each journal can be found on the journal's website.
A B C D E F G H I J K L M N O P Q R S T U V W X Y Z All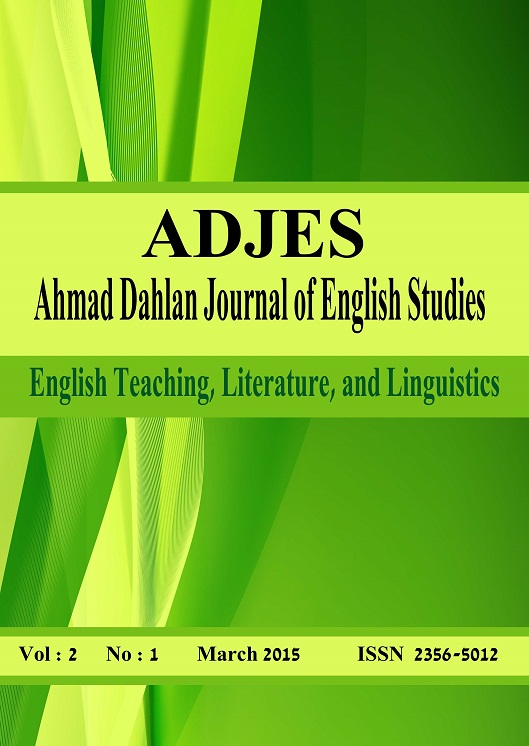 ADJES (Ahmad Dahlan Journal of English Studies)
ADJES (Ahmad Dahlan Journal of English Studies), with registered number ISSN 2477-2879 (online), 2356-5012 (print), is a journal which is published by Universitas Ahmad Dahlan. This journal is published twice a year in March and September. We accept mainly research-based articles related to English Language Teaching, Literature, and Linguistics.  
View Journal | Current Issue | Register
AdMathEdu : Mathematics Education, Mathematics, and Applied Mathematics Journal
Admathedu is a peer-reviewed open access journal published twice in a year (June and December) since 2011. The Admathedu aims to provide an national forum for researchers and professionals to share their ideas on all topics related to mathematics education. It publishes its issues in an online (E-ISSN: 2656-7040  and a printed (p-ISSN 2088-687X) version.
The Admhatedu welcomes high-quality manuscripts resulted from a research project in the scope of mathematics education and mathematics, which includes, but is not limited to the following topics: Realistic Mathematics Education, Design/Development Research in Mathematics Education, PISA Task, Mathematics Ability, ICT in Mathematics Education, Ethnomathematics, Mathematics, or Applied Mathematics. The manuscript must be original research, written in English, and not be simultaneously submitted to another journal or conference.
All submitted manuscripts will be initially reviewed by editors and are then evaluated by minimum two reviewers through the double-blind review process. This is to ensure the quality of the published manuscripts in the journal.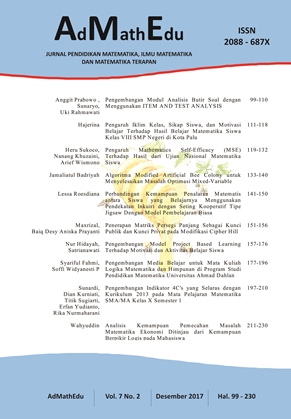 View Journal | Current Issue | Register
AdMathEduSt: Jurnal Ilmiah Mahasiswa Pendidikan Matematika
Jurnal AdMathEduSt dengan ISSN : 2355-8199 merupakan jurnal ilmiah yang diterbitkan oleh Program Studi Pendidikan Matematika, Fakultas Keguruan dan Ilmu Pendidikan, Universitas Ahmad Dahlan. Focus jurnal ini pada publikasi hasil penelitian, kajian dan gagasan pengembangan dalam bidang pendidikan matematika, ilmu matematika dan matematika terapan dari para mahasiswa internal atau eksternal UAD.
Jurnal Ilmiah AdMathEduSt terbit 1 bulan sekali. Redaksi jurnal AdmathEduSt menerima artikel yang belum pernah dipublikasikan. Redaksi berhak memperbaiki sistematika penulisan artikel tanpa merubah isi dari penulis. Artikel dimuat setelah melalui tahap review. 
View Journal | Current Issue | Register
Ahmad Dahlan Journal on Islamic Studies
silakan diskripsinya tentang ADJIS, ruang lingkup dll scr sinkat
View Journal | Current Issue | Register
Al-Misbah
View Journal | Current Issue | Register
1 - 5 of 5 Items