---
| | |
| --- | --- |
| Journal title | AdMathEdu : Jurnal Ilmiah Pendidikan Matematika, Ilmu Matematika dan Matematika Terapan |
| Initials | AdMathEdu |
| Abbreviation | AdMathEdu J. Ilm. Pendidik. Mat. Ilmu Mat. dan Mat. Terap. |
| Frequency | 2 issues per year | June - December |
| DOI | Prefix 10.12928/admathedu  by  |
| ISSN | P-ISSN: 2088-687X | E-ISSN: 2656-7040 |
| Editor-in-chief | Syariful Fahmi |
| Publisher | Universitas Ahmad Dahlan |
| Citation Analysis | Google Scholar |
---
Admathedu is a peer-reviewed open-access journal published twice a year (June and December) since 2011. The Admathedu aims to provide a national forum for researchers and professionals to share their ideas on all topics related to mathematics education. It publishes its issues in an online (E-ISSN: 2656-7040 and a printed (P-ISSN 2088-687X) version.
The Admhatedu welcomes high-quality manuscripts resulted from a research project in the scope of mathematics education and mathematics, which includes, but is not limited to the following topics: Realistic Mathematics Education, Design/Development Research in Mathematics Education, PISA Task, Mathematics Ability, ICT in Mathematics Education, Ethnomathematics, Mathematics, or Applied Mathematics. The manuscript must be original research, written in English or Indonesia, and not be simultaneously submitted to another journal or conference.
All submitted manuscripts will be initially reviewed by editors and are then evaluated by a minimum of two reviewers through the single-blind review process. This is to ensure the quality of the published manuscripts in the journal.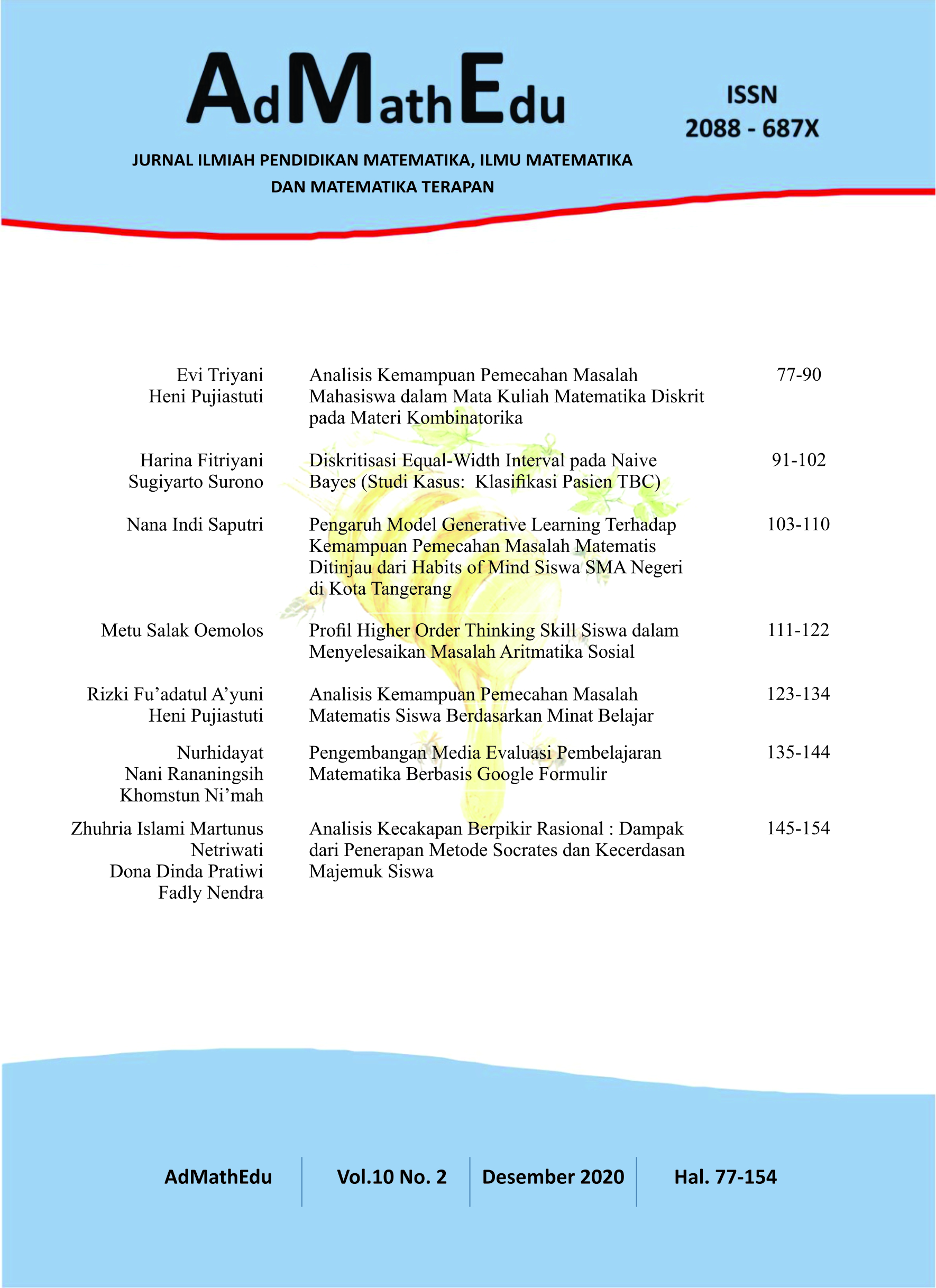 Before Submission
The author has to make sure that the manuscript has been prepared using Admathedu's template following the author guidelines. The manuscript should also have been carefully proofread. Any manuscript which does not meet the author guidelines, or written in a different format, will be immediately rejected. The only manuscript which meets the Admathedu's format will be processed further.
Online Submissions
1. Already have a Username/Password for Admathedu? GO TO LOGIN
2. Need a Username/Password? GO TO REGISTRATION
Registration and login are required to submit items online and to check the status of current submissions.
Vol. 10 No.1 June 2020 started from 1 January 2020 until  30 April 2020.
Vol. 10 No.2 December 2020 started from 1 July 2020 until 30 October 2020.
every published article will be charged Rp 250.000,- for printing journal.
Announcements
AdMathedu accredited SINTA 4

Based on results of the scientific journal Accreditation Period VI 2019 and the decision letter of Direktur Jenderal Penguatan Riset dan Pengembangan Kementerian Riset, Teknologi, dan Pendidikan Tinggi Nomor 30/E/KPT/2019, dated 11 November 2019, it was announced that Admathedu has already been in the SINTA 4. (http://arjuna.ristekdikti.go.id/index.php/news/view/258)

 

Posted: 2019-11-25

Call for Paper AdMathEdu Volume 11 Number 1 June 2021

Vol 11 No 1 June 2021
Posted: 2021-06-01
More...
Vol 10, No 2: Desember 2020
Table of Contents
Articles